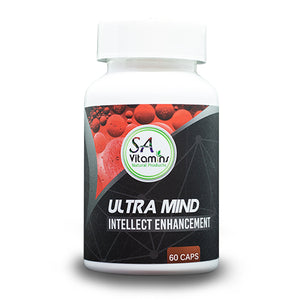 Ultra Mind 60 caps
DESCRIPTION:
SA Vitamins Ultra Mind, an intellect enhancer is specifically formulated to enhance your cognitive function during the course of your day. Ultra Mind provides fuel to your brain for optimal mental performance.
SUGGESTED USE:
Take 2 capsules in the morning after breakfast or 2 capsules in the noon after lunch. Do not exceed 4 capsules within a day.
WARNING:
Not intended for persons under the age of 18. If you use chronic medication, please consult with your healthcare practitioner, before you use this product. Consult with a doctor if pregnant or breastfeeding. 
INGREDIENTS:
Vitamin B6
Choline
Lions Mane Mushroom 30
Vinopocetine
Lemon Balm
Black Pepper
Pine Bark Extract
Bacopa Monnieri
Vitamin C