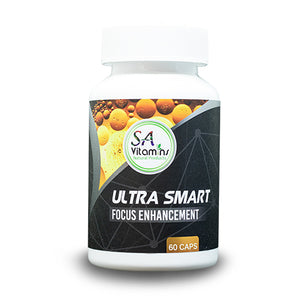 Ultra Smart 60 caps
DESCRIPTION:
SA Vitamins Ultra Smart, focus enhancer is specifically formulated to enhance your focus during high concentration periods such as, during an exam or even physical exercise. This ultra smart supplement boosts your energy and  keeps you focused for hours.
SUGGESTED USE:
Take 2 capsules  after a meal, prior to focusing period eg. before an exam or work. Do not exceed 4 capsules within a day.
WARNING:
Not intended for persons under the age of 18. If you use any blood thinning or chronic medication, please consult with your healthcare practioner, before you use this product. High caffeine intake could speed up your heartbeat. Consult with a doctor if Pregnant or breastfeeding.
INGREDIENTS:
Vitamin B6
L-Carnitine
Ginseng
DMAE
L-Tyrosine
Theacrine
Black Pepper