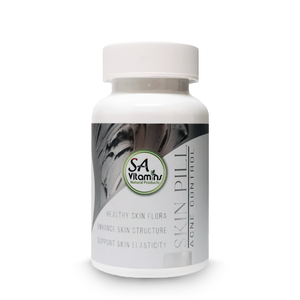 Skin Pil 60 Caps
DESCRIPTION
Banish imperfections for a glowing complexion that will give you the confidence you deserve.
The Skin pill assists with acne control, skin clarity and at the same time promote a healthy glowing skin.
The Skin pills uniquely developed formula combines a precise blend of Inositol, Collagen and Zinc and other key ingredients to assist with acne and acne related breakouts on your skin that can be caused by any of the following:
Excess sebum or oil production
Accumulation of dead skin cells
Bacterial infection of the follicle
Changes in hormonal levels as noted during puberty or pregnancy
Certain medications such as corticosteroids and lithium
Foods with high sugar content, dairy products , etc may trigger/worsen acne
Stress
Family history
Skin contact with greasy or oily substances
Friction or pressure on the skin
The Skin pill clears and restores your skin into a healthy skin flora and enhances your skin structure.
NOW is the time to give your skin the nutrients it needs.
USAGE:
Take 1-2 capsules in the morning with a full glass of water, after a meal. The dose will depend on how strong you want the effects to be.
 INGREDIENTS:
Myo Inositol 
Folic Acid 
Vitamin A 
Vitamin B6
Vitamin B12
Vitamin D3
Potassium Iodine
Magnesium Oxide Heavy 
Selenium Yeast 
Zinc Oxide 
Zinc Gluconate 
Bovine Collagen 
WARNINGS:
Discontinue the use where there is sensitivity towards any of the ingredients if you are pregnant or breastfeeding your baby. Please consult your doctor, pharmacist, or other health care professional for advice before consuming this product.