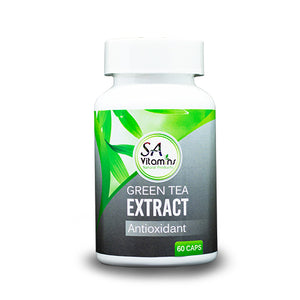 Green Tea Extract 60 Capsules
DESCRIPTION:
Fortify your body's defenses against the harmful effects of free radicals with the natural antioxidant nutrition of SA Vitamins Green Tea Extract. Treasured for centuries as an all-natural health tonic, green tea is packed with antioxidant polyphenols that neutralize free radicals to protect vital organs and tissues throughout the body.
SUGGESTED USE: 
As a dietary supplement, take one capsule three times per day with water or prescribe by your Healthcare Practitioner.
WARNING:
Do not take this product if you are pregnant or nursing. Consult your healthcare provider before use if you are taking any prescription medications.
INGREDIENTS:
Green Tea Standardized Extract (40%), Green Tea (leaves)