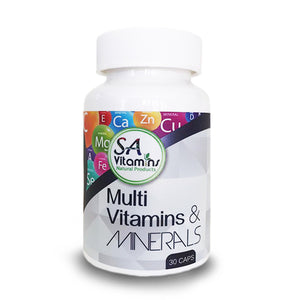 Multi Vitamin & Minerals 30 caps
Product Description
Start your day with SA Vitamins Multivitamin and Mineral that will improve your system. This formula contains vitamins, minerals, with added folic acid, ginger extract, that contains powerful anti-inflammatory, antioxidant properties and assist with producing and maintaining new cells.
This product is a multivitamin and iron product used to treat or prevent vitamin deficiency due to poor diet, certain illnesses, or during pregnancy. Vitamins and iron are important building blocks of the body and help keep you in good health.
Suggested Use:
As a dietary supplement, take one capsule per day with food and water.
Ingredients
Vitamin A, Vitamin C, Vitamin D3, Vitamin E, Calcium, Iron ACC, Magnesium ACC, Zinc ACC, Selenium, Copper, Potassium, Folic Acid B9, Ginger Extract.
Warning
For Adults only.
Consult your physician before using this or any product if you are pregnant or nursing, taking medication, or have a medical condition.
Keep out of reach of children.