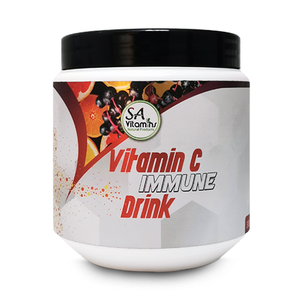 Vitamin C Immune Drink with Elderberry 300g
Product Description:
SA Vitamins Immune Drink has a mix of Elderberry extract and Vitamin C, which boost your immune system and help tame inflammation and ease cold and flu symptoms. Vitamin B's have been combined with the immune-boosting formula to provide energy and Vitamin E that could support coronary heart disease with added Zinc that puts electrolytes back into your body!
Directions of Use:
Above the age of 13 and adults: Dissolve 1 level scoop in a large glass of water before breakfast.
Children age 6-12 years: 1/3 scoop dissolved in a glass of water before breakfast.
Warning:
Discontinue the use where there is sensitivity towards any of the ingredients. 
Ingredients
Flavor
Colorants
Sucralose
Citrus bioflavonoids 
Elder Berry Extract
Vitamin B1
Vitamin B12
Vitamin B2
Vitamin B3
Vitamin B5
Vitamin B6
Vitamin B7
Vitamin B9
Vitamin C
Vitamin E
Zinc Gluconate