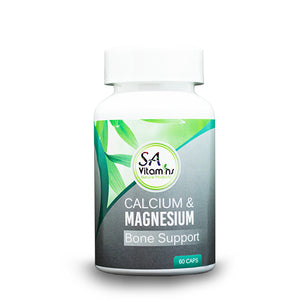 Calcium & Magnesium 60 Capsules
DESCRIPTION:
Multiple health benefits of magnesium include transmission of nerve impulses, body temperature regulation, detoxification, energy production, and the formation of healthy bones and teeth. Zinc, calcium, and magnesium are three of the most important minerals essential for good health.
SUGGESTED USE:
As a dietary supplement, take one to two capsules per day with water or as directed by your Healthcare Practitioner.
WARNING:
Do not take this product if you are pregnant or nursing. Consult your healthcare provider before use if you are taking any prescription medications.
INGREDIENTS: 
Calcium
Magnesium
Vitamin D3
Zinc
Copper ACC
Folic Acid
Manganese AAC
Boron AAC
Potassium