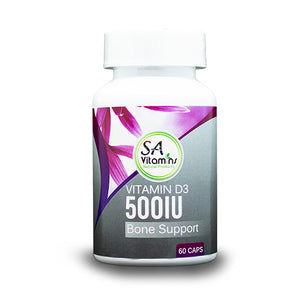 Vitamin D3 500iu 60 Capsules - NOW LESS 40%
DESCRIPTION:
Everyone knows that calcium is essential for maintaining strong bones, but calcium alone isn't enough. No matter how much calcium you get, it won't do you any good unless you have an adequate supply of vitamin D. That's because your body needs vitamin D to absorb calcium from the intestinal tract.
SUGGESTED USE: 
As a dietary supplement, take one Capsule per day with water.
WARNING:
Do not exceed the daily doses, unless different prescribe by your Healthcare Practitioner. Vitamin D is LIKELY SAFE when taken by mouth in recommended amounts. Most people do not commonly experience side effects with vitamin D unless too much is taken. Some side effects of taking too much vitamin D include weakness, fatigue, sleepiness, headache, and loss of appetite, dry mouth, metallic taste, nausea, vomiting, and others.
INGREDIENTS:
Vitamin D3 500 IU