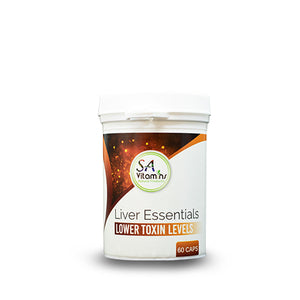 Liver Essentials 60 Caps - Now less 30%
R 13900

R 139.00

Save R 60
---
---
DESCRIPTION:
SA Vitamins Liver Essentials can be used for liver discomfort symptoms caused by improper diets, intoxication or to improve the liver function, Liver Essentials taken daily can help support liver detoxification. It supports the body's natural liver cleansing function during detoxification. This is a support supplement for the liver and helps to aid liver function.
 
SUGGESTED USE:
Take 1 to 2 capsules, 3 times per day with your daily meal and plenty of water. 
 
WARNING:
Do not take this product if you are pregnant or nursing. Consult your healthcare provider before use if you are taking any prescription medications.
 
INGREDIENTS:
Vitamin B1
Vitamin B2
Vitamin B3
Vitamin B6
Vitamin E
Choline
Aplha Lipoic Acid
L-Cysteine