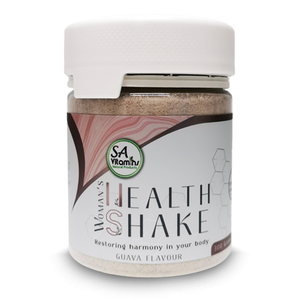 Woman's Health Shake 300g - LESS 50%
R 21500

R 215.00

Save R 184
---
---
DESCRIPTION:
Hormone Balance
SA Vitamins Woman's Health Shake is a nutritional supplement that may assist women with hormonal imbalances. One of the imbalances targeted is Polycystic Ovary Syndrome (PCOS) and its related symptoms.
Our unique combination of ingredients also makes this the perfect supplement for woman that are trying to fall pregnant. It is the perfect product to use to assist in managing the whirlwind of post-pregnancy hormones.
Our product contains Inositol, an ingredient that assist with improving insulin resistance, as well as depression and anxiety symptoms.

We strive to use only the most natural and effective ingredients, working together to restore balance in your body, creating a happier, healthier you!
DOSAGE:
Please use (1) scoop with 250ml water on a daily basis. 
INGREDIENTS:
Myo Inositol
L - Glutamine
Vitamin B12
Vitamin D3