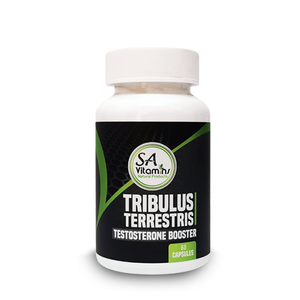 Tribulus Terrestris 60 Caps - NOW LESS 30%
R 10800

R 108.00

Save R 32
---
---
DESCRIPTION:
Tribulus Terrestris is an herb that may support the natural release and production of testosterone already within normal levels. Tribulus Terrestris may also support lean mass, exercise recovery, and sexual health
SUGGESTED USE:
Take 1 to 2 capsules daily with a meal.
WARNING:
Consult your physician before using this or any other dietary supplements. Do not use it if you are pregnant or nursing. Not intended for use by persons under the age of 18. Discontinue use at least 2 weeks prior to any planned surgical procedure. Discontinue the use of this product where there is sensitivity towards any of the ingredients.
INGREDIENTS:
Tribulus Terrestris extract, Gelatin, Magnesium Stearate, Silica, And Microcrystalline Cellulose.