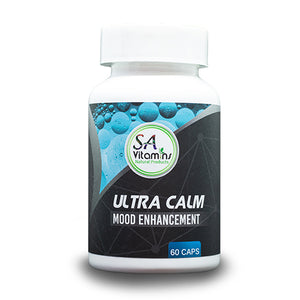 Ultra Calm 60 Caps
DESCRIPTION:
SA Vitamins Ultra Calm, mood enhancer is specifically formulated to enhance your mood when feeling stressed or "moody". These capsules help you feel less stressed without the effects of feeling drowsy. Ultra Calm can be taken daily, taking one capsule in the morning and one in the evening after a meal.
SUGGESTED USE:
Take 2 capsules  when feeling stressed or feeling moody. Do not exceed 4 capsules within a day.
WARNING:
Not intended for persons under the age of 18. If you use any antidepressant or chronic medication, please consult with your healthcare practitioner, before you use this product. Consult with a doctor if Pregnant or breastfeeding.
INGREDIENTS:
Vitamin B6
L-Trytophan
Gotu Kola
Ashwagandha
Lemon Balm
Black Pepper