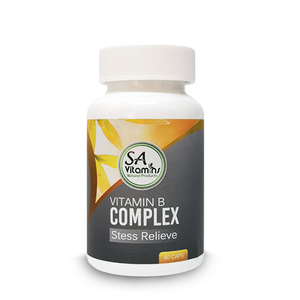 Vitamin B Complex 60 caps
DESCRIPTION:
SA Vitamins B-Complex is your most powerful weapon against stress! This unique formula promotes energy, maintains a healthy nervous system, and supports cardiovascular health. 
SUGGESTED USE: 
As a dietary supplement, take one to three capsules per day with water, or as suggested by your Healthcare Practitioner.
WARNING:
Women who are pregnant or likely to become pregnant should not use this product. Hormone-sensitive conditions such as breast cancer, uterine cancer, ovarian cancer, endometriosis, or uterine fibroids: Extracts from maca might act like estrogen. If you have any condition that might be made worse by exposure to estrogen, do not use these extracts.
INGREDIENTS: 
Thiamin (vitamin B-1), Riboflavin (vitamin B-2), Vitamin B-6, Folic Acid B-9, Vitamin B-12 (Crystaline), Biotin B-7, Calcium pantothenate B-5, Choline, Inositol B-8, PABA (para-aminobenzoic acid) B-10, Vitamin C