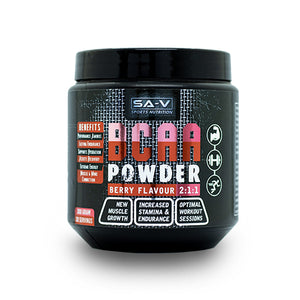 BCAA (Branched-Chain Amino Acid)2:1:1 300 grams - LESS 50%
R 12400

R 124.00

Save R 62
---
---
DESCRIPTION:
BCAA FOR LASTING ENDURANCE
SA-V  includes a well-studied 2:1:1 BCAA ratio, which features the proprietary L- Leucine, L-Isoleucine, L-Valine, and Lecithin content Matrix. BCAAs are known to support muscle maintenance, endurance and recovery, but the SA-V mix of  BCAAs takes one step further with our mix of content to enhance the body's ability to fuel skeletal muscles, preserve muscle glycogen stores and reduce protein breakdown.
Train Longer and Harder with Intense Energy and Focus*
Can use
Performance Aminos
Lasting Endurance
Hydration
Recovery
Xtreme energy
Better recovery
Increased performance
Muscle building
Fat loss properties
Muscle and Mind Connection
The BCAA from SA-V is not your typical product, this fantastic formula takes the three branched chain amino acids (L- leucine, L- isoleucine, and L-valine) and bonds it together in a utilized process route to form a bonded chain of amino acids (peptides). These peptides-based branched chain amino acids may act as a better transport vehicle for more efficient metabolization and a greater bio-activity enhanced onset time.
SUGGESTED USE:
Take one (1) serving (10 grams) blended into 1 glass of ice-cold water, either before, during, or after workout, or as directed by a qualified healthcare practitioner. On non-training days, take one (1) serving (1 scoop) first thing in the morning, on an empty stomach, or as directed by a qualified healthcare practitioner.
WARNING:
Not intended for use by persons under the age of 18. Do not exceed recommended dosage. Get the consent of a licensed physician before using this product, especially if you are taking medication, have a medical condition, you are pregnant, nursing or thinking about becoming pregnant. Keep this product out of the reach of children.
INGREDIENTS:
L-Leucine, L-Isoleucine, L-Valine & Lecithin L-Taurine, L-Citrulline DL-Malate 2:1, Vitamin B6, Sodium Benzoate, Sodium Saccharin
FLAVOURS:
Pineapple Flavour
Berry Flavour
*please specify in your order notes.