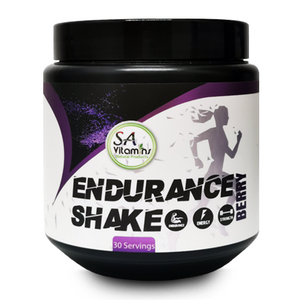 Endurance Shake
DESCRIPTION:  

SA Vitamins Endurance Shake caters for all those in need of an extra kick in the day, from gamers that plan on an all-night session, to those who need an energy boost at the office.
SA Vitamins Endurance Shake consist of a specific blend of Vitamins and Minerals, that gives you all the nutrition your body and brain need, to get you through those 25-hour days.
The blend of Vitamins in the product will help your body to convert food into energy. This is further assisted by our complex of 5 Vitamin B's, that play an important role in converting fat and protein into energy. This product also contains Vitamin B12, an important vitamin in the process of energy generation. Vitamin B12 can be found in almost every cell in your body, making this an effective energy source.
Our caffeine and guarana complex will assist with mental awareness, and our amino acid blend assists with mental fatigue management.
Next time when you reach a slump, rather grab a SA Vitamins Endurance shake than the same old products you are used to.
Direction Of Use:
Take 1 scoop after a meal preferably in the morning with 300ml - 500ml water or as prescribed by your health care professional.
INGREDIENTS:
 Dridex, Flavour (Raspberry and Cherry), L-Theanine, D-Aspartic Acid, Magnesium Citrate, Di-Potassium Phosphate, Malic Acid, Panax Ginseng, Guarana, L-Carnitine, Caffeine, L-Arginine, Calcium Lactate, Sugar T4, Vitamin C, Colourant, Sodium Benzoate, Potassium Sorbate, Vitamin E, Vitamin B3, Zinc Citrate, Vitamin B5, Vitamin B6, Vitamin B12, Folic Acid, Selenium AAC.