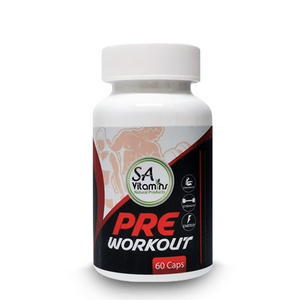 Pre Workout 60 Caps
DESCRIPTION:
Energy + Strength
SA Vitamins Pre-Workout contains a natural blend of ingredients that promotes energy, endurance and enhances performance.
Our unique blend of ingredients is designed to:
Support mental alertness and focus during your session
Assists in resistance to muscle fatigue
Enhances muscle growth
SA Vitamins Pre-Workout will power you through your goals during every session!
USAGE:
Take 2 capsules with a full glass of water 30 minutes prior to your workout session.
INGREDIENTS: 
Vitamin B1(Thiamine)
Vitamin B2(Riboflavin)
Vitamin B3(Niacin)
Vitamin B9 (Folic Acid)
Vitamin B12(Cobalamin)
Cayenne Pepper
Vitamin C (Ascorbic Acid)
Caffeine Anhydrous
Beta Alanine
Citrulline Malate
L-Arginine