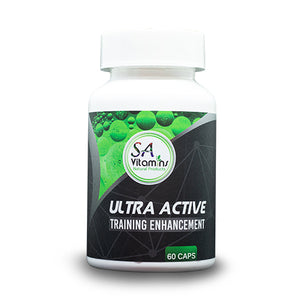 Ultra Active 60 caps
DESCRIPTION:
SA Vitamins Ultra Active, a training enhancer is specifically formulated to enhance your training experience, increasing performance, increasing endurance, and reducing fatigue. Ultra Active focuses on increasing your physical and mental performance during training or sports activities.
SUGGESTED USE:
Take 2 to 3 capsules before physical exercise after a snack and/or 1 to 2 capsules in the morning for daily energy output. Do not exceed 4 capsules within a day. 
WARNING:
Not intended for persons under the age of 18. Do not take this product if you are pregnant or nursing. If you suffer from low blood pressure or use any chronic medication, please consult with your healthcare practitioner, before you use it. 
INGREDIENTS:
Vitamin B Complex
Cordyceps
Rhodiola Rosea
Aswaganda Root Extract
Theacrine
Astragalus
CoQ10