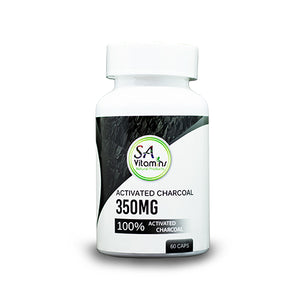 Activated Charcoal Capsules 60's
DESCRIPTION:
SA Vitamins 'Activated charcoal is a natural remedy that can assist with lowering cholesterol levels, improve kidney functions, and reduce gas and diarrhea, and even get rid of hangover toxins. Activated charcoal can help balance out the body's pH level in order to keep your human cells healthy.
The charcoal's porous texture has a negative electrical charge, which causes it to attract positively charged molecules, such as toxins and gases. When liquids or gases pass through this activated charcoal, they bind to it through a process known as absorption.
These toxins and chemicals get trapped in your gut and eliminated through stool instead of being absorbed into your body and helps reduce flatulence.
SUGGESTED USE:
Take 1 capsule two to three times daily, 3-4 hours before/after meals or as recommended by your healthcare practitioner.
WARNING:
Not to be taken at the same time as medications or other dietary supplements. If pregnant or nursing, consult your healthcare practitioner prior to use. This product is not intended as a treatment for accidental poisoning. 
*Store at or below 25ºC *Protect from light and moisture 
*Keep out of reach of children
INGREDIENTS:
Activated Charcoal