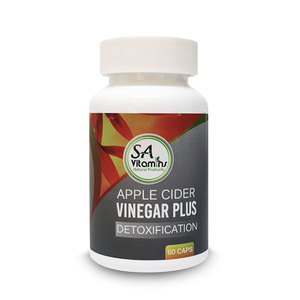 Apple Cider Vinegar Plus 60 Capsules
DESCRIPTION:
SA Vitamins Apple Cider Vinegar supports weight loss, lowers blood sugar levels, and improves symptoms of diabetes. Apple Cider Vinegar also assist with detoxification and system cleansing
SUGGESTED USE: 
As a dietary supplement, take one to two capsules two times per day with water or prescribe by your Healthcare Practitioner.
WARNING:
Some medications may interact with apple cider vinegar, including insulin, digoxin, and certain diuretics.
INGREDIENTS: 
Apple Cider Vinegar
Gotu Kola Extract 4:1
Chromium Picolinate
Kelp