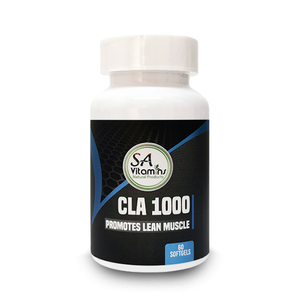 SAV Conjugated linoleic acid (CLA) 1000 60 Softgels
DESCRIPTION:
CLA (CONJUGATED LINOLEIC ACID) supports lean muscle and healthy weight loss, CLA 1000 is a potent antioxidant, which is scientifically proven to help improve lipid profiles and enhance overall health. CLA is a naturally occurring free fatty acid found mainly in meat and dairy products.
For any person or professional athlete looking to add more muscle and drop body fat for a leaner body, CLA is a unique discovery that will make accomplishing this easier and faster, CLA also has a positive effect on the immune function and acts as a powerful antioxidant and have a cholesterol-lowering effect.
Support lean muscle
Support healthy weight loss
Promote exercise recovery
Powerful Antioxidant
Improve Immune Function
Improve lipid profiles
Stimulant Free
SUGGESTED USE:
As a dietary supplement, take one softgel per day with water one to two hours before a meal or as recommended by your healthcare provider.
WARNING: 
Discontinue use at least 2 weeks prior to any planned surgical procedure. Discontinue the use of this product where there is sensitivity towards any of the ingredients. If you are pregnant or breastfeeding, please consult your doctor for advice before taking this product.
INGREDIENTS:
Calcium carbonate, microcrystalline cellulose (plant fiber), stearic acid, magnesium stearate, silica, ethylcellulose, food glaze, L-Carnitine Base