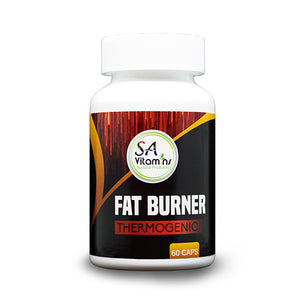 Fat Burner Thermogenic 60 Capsules
DESCRIPTION:
This Super FAT BURNER capsule contains the synephrine and caffeine mix that is well known for its fat burning and energy benefits, together with the added Green Tea Extract and L-Tyrosine, this all-natural capsules enhances and prolongs the core fat-burning effects. To add to the effectiveness of this fat burner the Guggelsterones ingredients help to regulate thyroid function further, enhancing the fat-burning properties of the tablet even more.
Fast Acting Fat Burning
Thermogenic Burner
Thyroid Activation
Super Extended Energy
Increased mental function
Optimized Workout
Increased Metabolism
SUGGESTED USE:
Take one to two capsules before breakfast in the morning & afternoon 30 minutes before your meal or before your training session. For additional energy, take two to three capsules before your training/event. 
WARNING:
Do not take this product if you are pregnant or nursing, or if you have or have had low blood pressure.
INGREDIENTS:
Coleus Forskoli, Green Tea Extract 95%, Caffeine Anhydrous, and Yerba/Finomate complex
FOR ENERGY:
Two to three capsules before training session or event