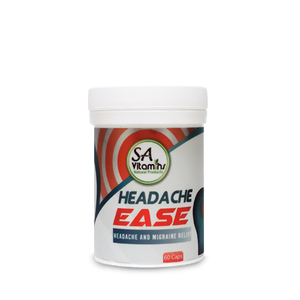 Headache Ease 60 Capsules - NOW LESS 50%
R 14900

R 149.00

Save R 75
---
---
DESCRIPTION:
Headaches + Migraines
SA Vitamins Headache Ease is your go to product when you are looking for effective, natural relief from headaches and migraines. Formulated with a unique blend of Vitamins, Minerals and Herbs, your days of struggling with effective management of headaches and migraines are over.
Free from aspirin, caffeine, and sedatives this product is safe to use during the day and will not cause drowsiness.  
Dosage:
Take one to two capsules with 250 ml water when needed for pain.
INGREDIENTS:
Magnesium oxide heavy
L -Taurine
Feverfew
Vitamin B1 (Thiamine)
Vitamin B2 (Riboflavin)
Co Enzyme Q10