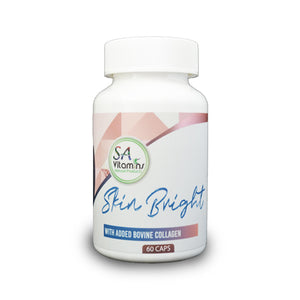 Skin Bright with added Collagen and Bovine 60 Caps
DESCRIPTION:
Skin bright capsules are a specially enhanced formulated supplement that contains all natures elements to support and enhance skin luminosity. This specifically designed formulation contains a propriety blend of L-Glutathione, Vitamin C and Collagen that assist your body naturally to minimizes age-spots, reduces the appearance of fine lines whilst fading and lightening the skin complexions colour. This end results are lighter skin with a radiant smooth glow which is achieved by healthy skin cells and reduced toxicity in the body. The capsules contain the highest concentrations of the finest quality active ingredients that also deal with pigmentation related problems.
SUGGESTED USE:
Take 2 capsules daily, preferably 30 minutes before eating, with water or juice as indicated, for enhanced benefit a maximum of 6 capsules can be taken (2 capsules – 3 times per day), Depending on skin type, condition and colour, results may vary, best results are usually seen from 8 to 12 weeks and onward. Please take note to use sun protection cream at all times when outside, as the sun will darken and damage  the skin again.
WARNING:
Safety during pregnancy and lactation has not been established.
INGREDIENTS:
L-Glutathione, Vitamins C and Collagen