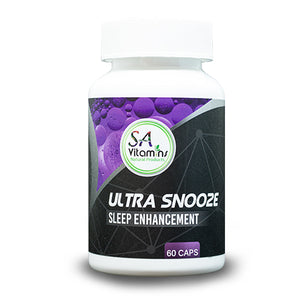 Ultra Snooze 60 Caps
DESCRIPTION:
SA Vitamins Ultra Snooze, sleep enhancer is specifically formulated to optimize your sleep experience. The result of the combination of ingredients provides your body with the necessary components to push you into a deep and natural sleep without the side effects of other sleeping pills.
SUGGESTED USE:
Take 2 capsules approximately 1 hour before bedtime. Do not exceed 4 capsules within a day. 
WARNING:
Not intended for persons under the age of 18. If you use any sedative, antidepressant or chronic medication, please consult with your healthcare practioner, before you use this product. Consult with a doctor if Pregnant or breastfeeding.
INGREDIENTS:
Passion Flower Extract
Magnesium ACC
Magnesium Sterate
L-Tryptophan
Black Pepper